At The English Playgroup, you will find a stimulating and successful program of learning, playing and care, taught by the very best trained English specialist teachers.
Within the schools, there is a strong belief in children receiving a challenging and inspirational education and in developing their own talents and personalities in preparation for their future education. Our bilingual program teaches fluency in English and Arabic through a well-structured, thematic approach to learning.
At our schools, we use the English National Curriculum to deliver the best of Early Years, Primary and Secondary Education. Over the years, we have developed our own books and curriculum resources that match our student's abilities and help them progress solidly through the Foundation, KS1, KS2 and KS3 levels. Arabic is taught in line with the Kuwait Ministry of Education guidelines. Class sizes are kept small at our schools to ensure each child receives the attention and care they deserve and all our staff are experienced professional teachers with high standards of achievement.
Our schools provide a stimulating, creative and welcoming environment in which to learn. Our facilities, which are designed specifically with the Early Years and Primary & Secondary-aged children in mind, are second-to-none and are constantly updated to stay at the forefront of Early Learning, Primary & Secondary education.
I look forward to welcoming you and your children at The English Playgroup and EPG Schools.
Sulayman Al – Bassam
Managing Director
Established in 2000 as a family-owned and operated company, EPG has grown into the premier provider of Early Years and Primary & Secondary Education in Kuwait. EPG currently operates a network of 30 schools across Kuwait, giving over 8,500 children aged 9 months to 12 years the opportunity to be the best they can be.
Our core mission at EPG is to empower students to become lifelong learners and to strive for their full potential. We have created a welcoming and safe environment for children to learn, be creative, and grow into the global citizens that will shape the future of Kuwait.
EPG follows the world-renowned English National Curriculum in our schools, which we have carefully adapted to local customs, Ministry of Education requirements, and our fully bilingual approach. EPG has garnered international recognition for its efforts, earning full COBIS (Council of Overseas British International Schools) accreditation for our Schools in Salwa and Salmiya.
Our leadership and teaching family, currently over 700 strong, are the backbone of our company, and they are each handpicked from across the world for their exceptional experience and training. We make sure they stay at the top of their fields with our world-class continuing education and training.
EPG MISSION:
Our Mission is to enable all our children to be the best they can be. We do this by:
Providing high-quality education, enabling children to become bilingual lifelong learners and valuable global citizens in a rapidly changing, multicultural world.
Partnering with parents to nurture the development of the child, emphasising communication, critical thinking, creativity, collaboration, and compassion.
EPG VISION:
EPG Vision aspires to provide meaningful, innovative learning opportunities for all stakeholders, which exemplify and promote the EPG Values.
To deliver a curriculum of the highest quality, encouraging each student to develop their unique skills and talents through holistic and comprehensive education.
To develop and maintain safe, welcoming environments for our school community, celebrating creativity and inspiring academic excellence.
To nurture and support our students in all areas of learning and development: spiritual, emotional, social, intellectual and physical.
EPG VALUES:
EPG Values are at the heart of our schools and guide all that we do.
INTEGRITY: The qualities that show a person is honest, trustworthy, dependable and respectful and to show these qualities with confidence in all aspects of their lives.
EMPATHY: The capacity for caring, kindness, understanding, and compassion for all living things.
CREATIVITY: The willingness to embrace curiosity, inquiry, reflection, inspiration, innovation, independence, diversity, flexibility, adaptability and to contribute to a new global society.
LEADERSHIP: The ability to think critically, show resilience, make decisions, solve problems, collaborate, communicate effectively, and be committed to a shared vision.
GLOBAL CITIZENSHIP: The understanding and acceptance that we are all connected through humanity and our environment, and that it is our shared responsibility to protect and preserve the world that we live in.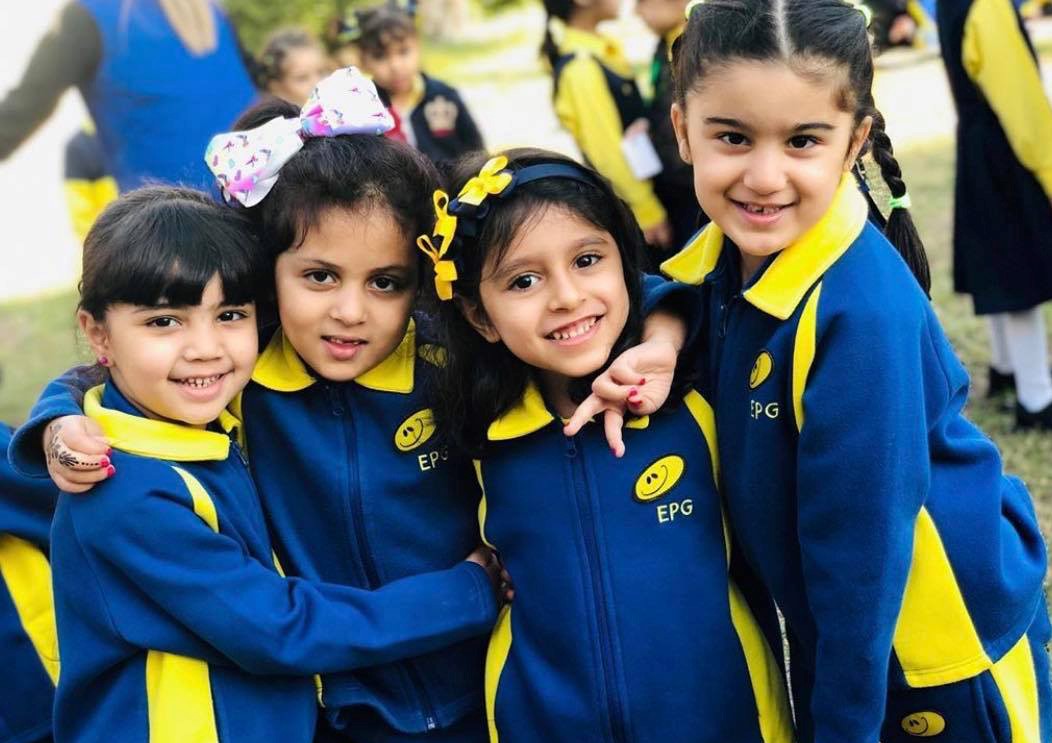 Well-Being
At EPG, we believe that as well as supporting children to be the best they can be academically, it is even more important to support children to be the best they can be both socially, emotionally and personally. Well-being is at the forefront of the school's curriculum and promoting good mental health is a priority.
At our school we:
help children to understand their emotions and feelings better
help children feel comfortable sharing any concerns or worries
help children socially to form and maintain relationships
promote self-esteem and ensure children know that they count
encourage children to be confident and 'dare to be different'
help children to develop emotional resilience and to manage setbacks
The English Playgroup is really a good school for kids. All the staff are amazing and very friendly with the kids. My daughter is in one of EPG branches and she loves all her teachers and friends. She learns new things every day and very excited to go to school each day.
Mrs. Deena Tareq AlRukhais
Kuwait
My son and daughter have attended The English Play Group for three years.  My kids love their teachers and they get very excited to go to school every morning. They have learned so much, and their vocabulary, reading, writing and social skills are improving remarkably. In addition to the daily fun activities at class, the school holds multiple events throughout the year that involves parents participation, which is a great opportunity to interact with my kids, the other parents and the teachers. It's really great to see my kids having fun with their friends. The teachers and staff are very professional, friendly, cooperative and caring. They are very keen on keeping the parents involved by giving constant feedback and tips in order to improve the kid's progress.
Mr. Mustafa Nasser Al Furaih
Kuwait
Add Testimonial Add Testimonial Add Testimonial asdsad
Adssa adsasd
Sadsad asdasd
EPG is one of the most successful schools in education where I was inspired with my son in terms of developing his educational and social skills and learning new things daily, helping to build his personality to become a member of society.
Mr. Yahya Youssef AlJumaa
Kuwait
Primary Schools Locations
Secondary Schools Locations